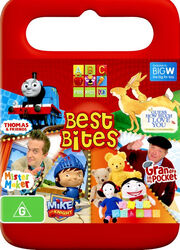 ABC For Kids - Best Bites was released on 21 June 2012. It has a runtime of ninety-one minutes.
Description
Here's a taste of your favourite ABC for Kids show all on one DVD.
Have fun with Thomas, Mister Maker, Grandpa and Jason plus many more including Mike the Knight for the first time on DVD!
Episodes
Thomas & Friends - Slippy Sodor
Mister Maker
Mike the Knight - The Smiley Treasure
Play School - Munch and Crunch
Grandpa in My Pocket - Miss Smiley's Strawberry Surprise
Guess How Much I Love You - I Want to Fly
DVD Gallery
Cover Gallery