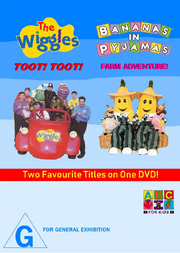 Toot Toot! + Farm Adventure! is the 15th Double Feature DVD made by ABCforKidsEnthusiast. Released in February 10th, 2018
Songs and Episodes Included
Toot Toot!
Look Both Ways
John Bradlelum
Henry's Underwater Big Band (1999 version only)
Head, Shoulders, Knees and Toes
Food, Food, Food (Oh How I Love My Food)
Go, Captain Feathersword, Ahoy!
Bathtime (1998 version only)
Do the Wiggle Groove
Dorothy the Dinosaur (Tell Me Who is That Knocking)
Balla Balla Bambina
I Climb Ten Stairs
Move Your Arms Like Henry
Silver Bells That Ring in the Night
Wags the Dog He Likes to Tango
We're Dancing with Wags the Dog
Officer Beaples' Dance
Zardo Zap
Let's Have a Ceili
Toot Toot, Chugga Chugga, Big Red Car
Farm Adventure
Farm Adventure
Hide and Sleep
Morgan's Mail
Hungry Harvest
Desert Island
News Flash
Scaresheep
Flash the Fish
Pump Pumpkin
2-Wheeler Bananas
Trivia
This DVD is dedicated to Thomas Condon as he left due to his busy life
The Toot Toot version selection is similar to the Aspect Ratio selection, it asks you what version you prefer to watch (First release from 1998 and Re-release from 1999.) Depending which version was chosen by Wiggles fans. Not only that, "Toot Toot!" is actually the oldest Wiggles video of the ABC for Kids Double Feature Series despite there were both versions.
This DVD was re-released in 2020 with It's a Wiggly Wiggly World! + Bumping and a-Jumping as part of "ABC for Kids' Wiggly Favourites or Banana-tastic Favourites.
Gallery
Cover
DVD
1998
1999