Mixy Presents: TV Favourites + More Favourites is the 23rd and final ABC For Kids Double Feature DVD released by ABCforKidsEnthusiast.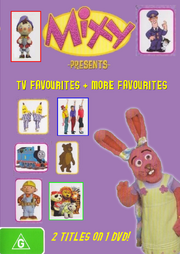 Contents
(Coming Soon)
DVD Menu Gallery
(Coming Soon)
DVD Cover Gallery
(Coming Soon)
Trivia
This is the VERY LAST official ABC for Kids Double Feature DVD to be released in Australia.
Unlike ABC for Kids Compilation videos releases including these that were on this DVD, It features episodes and music videos of Bananas in Pyjamas, The Hooley Dooleys, Thomas the Tank Engine and various shows. And in fact, this is ACTUALLY the last Double Feature DVD to feature the three shows that have been released with other Wiggles and Bear in the Big Blue House DVDs.
This is the only DVD to feature the Forgotten Toys and Magic Mountain.