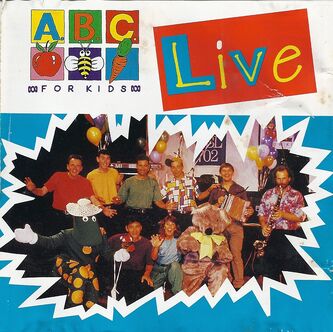 ABC For Kids Live is an album that was released in 1993. The songs Rock-a-Bye Your Bear, Okki Tokki Unga and I Can Do Magic, which appeared on the video, were not included on the CD. When You Smile, Arabella Miller, The Kookaburra Sits, Old MacDonald Had A Farm and Uncle Noah's Ark were added. Some of the vocals and instrumental parts were re-recorded for the CD.
Song List
Jollity Farm - Mic Conway
The Hokey Pokey - Mic Conway
Insects and Bugs - Gillian Eastoe
That's Disgusting - Gillian Eastoe
When You Smile - Gillian Eastoe
Jellybean Jar - Gilllian Eastoe and Mic Conway
Twinkle, Twinkle, Little Star - Gillian Eastoe
Rufty Tufty/Hop Tu Naa/Cat's Got the Measles - Mike Jackson and Ian Blake
Old McDonald/The Kookaburra Sits - Mike Jackson and Ian Blake
Here Comes a Bear - The Wiggles
Dancing Ride - The Wiggles
Uncle Noah's Ark - The Wiggles
Dorothy the Dinosaur - The Wiggles
Get Ready to Wiggle - The Wiggles and All Artists
Credits
Trivia
Community content is available under
CC-BY-SA
unless otherwise noted.