Arthur's Eyes is the first Arthur video released in Australia. It was released on March 10, 1997.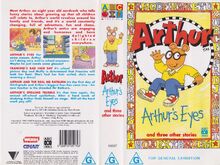 Episodes
Arthur's Eyes
Francine's Bad Hair Day
Arthur and the Real Mr Ratburn
Arthur's Spelling Trouble
Opening Previews
1. Warning Scroll
2. Roadshow Entertainment Logo (1996-2012)
3. G Rating Screen (1996-1998)
4. ABC Video Logo (1990-2006)
5. ABC For Kids Promo (1993-1997)
Community content is available under
CC-BY-SA
unless otherwise noted.