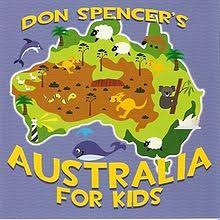 Australia is a Don Spencer song from Australia for Kids.
Lyrics
Give me the colours and I'll paint you a picture
Of a white sandy beach and a sparkling sea.
A bright golden sun and a blue sky -
And the picture I paint belongs to you and me.
Like the flowers that bloom every colour of the rainbow
And the mountains in June, their peaks white with snow,
I'll paint you the red of the desert,
The green of the forests where the tall timbers grow.
Chorus
This land is yours and mine,
It's been here since the dawn of time.
The sun will always shine, On the land we call Australia.
Give me the colours and I'll paint you a picture Of a long dusty road to a small country town.
I'll paint you the wide open spaces. Places and faces of friends that I have found.
Give me the colours and I'll paint you the magic Of a night sky lit up by the bright city lights. I'll paint you some tall city towers,
Bathed in the glow as the sun begins to rise
Chorus x 4