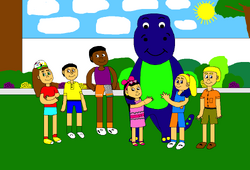 Barney and the Backyard Gang's Three Wishes (CGI Remake) is a CGI remake of the original video released in 1989.
Characters
Barney
Michael
Amy
Tina
Luci
Jason
Adam
Michael and Amy's Mom
Michael and Amy's Dad
Moonkin the Alien
Farmer Earl
Eli the Chimpanzee
Songs
Barney Theme Song
I Love You
London Town
Mr. Knickerbocker
Take Me Out to the Ballgame
I See the Moon
The Rocket Song
The Rocket Song (Reprise)
Friends Are Forever
Trivia
Unlike the original live-action version, there have been updates as listed.

Barney's 1988 style is non-creepy.
Tina wears pink heart sunglasses.
Jason gains additional lines and appears in additional scenes of the petting farm, too.
Amy and Adam's actual names are mentioned by name.
The music is re-composed by Matt Goldstein in a Singleton style.
Farmer Earl speaks.
Video
Community content is available under
CC-BY-SA
unless otherwise noted.