Big World! Big Adventures! is the 2018 Thomas & Friends film.
Plot
A racing rally car called Ace inspires Thomas the Tank Engine to become the first engine to travel the world, so Thomas sets off on an adventure which takes him to five continents, across deserts, through jungles and over dangerous mountains. On his journey Thomas meets Nia, an engine who teaches him that everyone needs a little help from their friends.
Appearances
Thomas
Edward
Henry
Gordon
James
Percy
Toby
Duck
Donald and Douglas
Oliver
Cast
John Hasler as Thomas
Keith Wickham as Edward, Henry, Gordon, Harold, Bertie, Captain, Sir Topham Hatt, Dowager Hatt and Mr. Percival
Rob Rackstraw as James, Toby, Donald, Sam, Big Mickey, the Thin Clergyman and the Senegal Race Announcer
Nigel Pilkington as Percy
Teresa Gallagher as Emily, Marion, Natalie, the American Diesel, Cassia and Annie and Clarabel
Rasmus Hardiker as Bill and Philip
Matt Wilkinson as Ben, Cranky, Tony and Carter
Nicola Stapleton as Rosie
Tim Whitnall as Timothy and the Moai Head
Kerry Shale as Beau and Diesel
Steven Kynman as Duck and Paxton
Bob Golding as Sidney
Lucy Montgomery as Carly and the Cowgirls
Dan Li as Yong Bao
Gabriel Porras as Carlos, Fernando, Emerson, the Coffee Trucks and Various South American Voices
Su-Lin Looi as the Chinese Diesel
Yvonne Grundy as Nia (Patricia Kihoro as Nia's singing voice)
Rufus Jones as the Flying Scotsman
Rachael Miller as Angelique
Abubakar Salim as Kwaku, the African Troublesome Trucks, Kobe and Various African Voices
Richie Campbell as the African Troublesome Trucks and Various African Voices
Akiya Henry as the African Troublesome Trucks and Various African Voices
Chipo Chung as the African Troublesome Trucks and Various African Voices
Dona Adwera as Various African Voices
Peter Andre as Ace
David Menkin as Racing Car 3
Christopher Ragland as Racing Car 4 and the Cowboys
Joe Mills as Douglas and Oliver (uncredited)
Tracy-Ann Oberman as Daisy (uncredited)
Trivia
This is the last Thomas & Friends special ever.
Gallery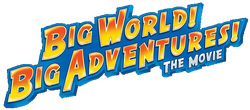 Click here to view the gallery.