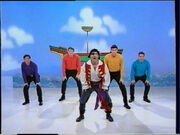 "Bing Bang Bong (That's a Pirate Song)" is a Captain Feathersword song from the Wake Up Jeff! video and album.
Listen
Song Lyrics
Bing Bang Bong, a Ring Rang Rong
That's a pirate song

I love to sing (He loves to sing)
I'll sing anything (He'll sing anything)
Captain Feathersword sings

Oh I love to eat (He loves to eat)
I'll eat anything (He'll eat anything)
Captain Feathersword eats

Chorus
...oooh on the sea or on the land, he dances all day long
A Bing Bang Bong, A Ring Rang Rong
That's a pirate song
Oh I love to tickle (He loves to tickle)
I'll tickle everyone... oooh watch out!
Captain Feathersword tickles

Chorus

I love to dance (He loves to dance)
In my pirate pants (In his pirate pants)
The Feathersword dance
Ahoy there, me hearties!
Song Credits
J Field/M Cook/J Fatt/A Field/G Page (Control/EMI)
Trivia
Appearances
Video Performances
Album Appearances
Episode Appearances