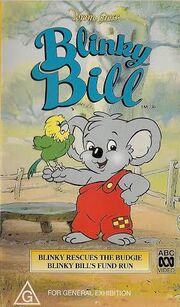 Blinky Rescues the Budgie is a second VHS on the Blinky Bill series to release in 1994 on ABC Video.
Description
After their original homes are destroyed, Blinky Bill and his friends are slowly rebuilding their new village of Greenpatch Life is returning to normal but that doesn't mean that things are doll and boring! Follow the adventures of Dorothy Wall's endearing characters in two more episodes from the ABC Television series.
Episodes
Blinky Rescues the Budgie
Blinky Bill's Fund Run
Trivia
Gallery
AUS VHS
Community content is available under
CC-BY-SA
unless otherwise noted.