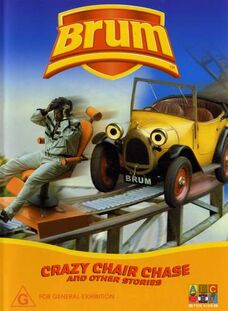 Brum: Crazy Chair Chase and Other Stories is a UK/Australian/Dutch VHS/DVD release featuring five fifth season episodes.
Previous Release: Stunt Bike Rescue and Other Stories
Next Release: Stopwatch Botch and Other Stories
Runtime: 49 Mins
Released: 2005 (Australia)

Episodes
Brum and the Crazy Chair Chase - The new remote control chair, which Gordon has ordered for his hair dressing salon, turns out to have a mind of its own. Brum follows it to the funfair where it gets stuck on the roller coaster ride. With a train full of children on it's way, Brum has only seconds to prevent a hair raising disaster.
Brum and the Bank Robbers - Two Big Town baddies steal the safe containing Posh Lady's jewels from the bank, but the heavy safe runs away on its trolley. Brum takes off in hot pursuit of the loot, but can he safely return the safe and lock up the baddies?
Brum and the Mischievous Mouse - A little girl's mouse escapes when they leave the pet shop and Brum helps to chase after it through the town and into the disco. Will Brum manage to keep it safe from all those dancing feet or will it be hard cheese for the mouse?
Brum and the Cream Balloon - An enormous cream-filled balloon is bouncing dangerously all over the Big Town. Can superhero Brum steer it away from all the hazards, or will mayhem be whipped up when it finally explodes?
Brum and the Paint Pandemonium - Two artful Big Town baddies have designs on stealing the street artist's money while he paints a portrait and then they try and hide out in the Art Gallery. Can Brum save the day - and the money?
Trivia
This was the first UK and Australian Brum DVD to contain subtitles.