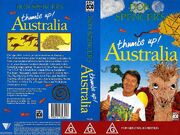 Don Spencer's Thumbs Up Australia is a Don Spencer video that was released in September 20, 1993
Description
VHS Only
If it hops, flies, runs or jumps somewhere in Australia, Don Spencer knows about it and has probably sung about it. Now you can meet all Don's animal friends and look at his other great discoveries about Australia in this new video. Featuring songs such as: Thumbs Up!; It's a Marsupial; Please Don't Call Me A Koala Bear; Aussie Mossie; Kangaroo - The Super Marsupial; Lizards of Oz; Great Australian Bite; Dig, Dig, Dig Like A Wombat; It's A Marsupial; Red Dirt Roadway; Sh Sh Sugar Glider and all-time favourites, Pat the Cat, Bob the Kelpie, Fairy Penguin Strut and Walkabout.
DVD Only
Don Spencer gives a big Thumbs Up! to this great land Australia and goes on a fascinating journey into the wonderful world of our native animals. Don also has an adventure into the outback along the Red Dirt Roadway. Many of Don's classic songs for children feature on this DVD with music clips that are both animated and live action.
Songs
Gallery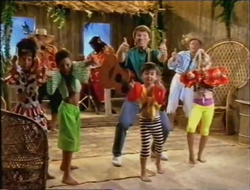 Click here to view the gallery.
Trivia
Although the tape label says 'DON SPENCER'S THUMBS UP! AUSTRALIA', the rating screen says 'DON SPENCER THUMBS UP! AUSTRALIA'
This video does not close with the 1993-1995 Roadshow Entertainment logo
This is the first Don Spencer DVD to use the new 2009 ABC For Kids logo.
This is the first Don Spencer DVD to use the new 2010 ABC Music logo.