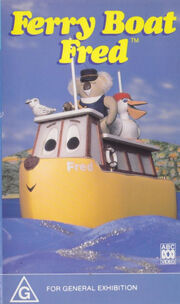 Ferry Boat Fred is the First Ferry Boat Fred Video to be released. It was released in 1992.
Description
This captivating Australian children's series tells the story of Ferry Boat Fred, who is smallest of all the ferries in the harbour. Fred is joined in his adventures with his big sister Kate, Pelican Pete, and his captain, the Koala (who always seems to be asleep), the other ferries Lou and Bill and many more wonderful characters.
Episodes
Trivia
The cover art was later reused for the soundtrack.
Goofs
On the back cover, Jean the Submarine is listed as being after Fred and the Whales, but Jean the Submarine is actually first.
Gallery