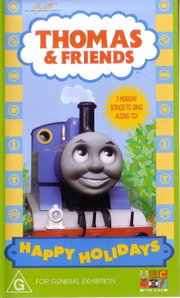 Happy Holidays is a Thomas and Friends video that was released in 2000. A rare 2006 DVD exists but it excludes the songs.
Description
It's a peep peep and a chuff chuff for all the Thomas the Tank Engine fans out there with 6 more adventures with Thomas and his friends plus 3 special holiday songs for you to learn!
Episodes
* Followed by all three songs.
Songs
Trivia
Gallery
2000 AUS VHS
2006 AUS DVD