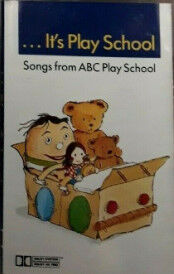 ...It's Play School is a Play School cassette released in 1991
Songs
Side 1
There's A Bear In There.
Say Hello.
Take You Riding.
Drip Drop.
Mr Frog.
I Can Sing A Rainbow.
Boggabilla Bus.
Going To The Zoo.
I Know A Hairy Bear.
Stir Up The Pudding.
Eggs.
Dingle Dangle Scarecrow.
All The Fish.
This Little Piggy.
Home Among The Gumtrees.
Frill Neck Lizard.
Do You Put Your Hat On Your Knee?
Dance To Your Daddy..
The Boy With The Drum.
Side 2
Bump-A-Deedle Dance.
Splish, Splash, Splosh.
The Music Man.
My Dog Bill.
If You Were A Farmer. 
Six Little Ducks.
What Can A Cow Do?
Five In A Bed.
Fa-La-Nana.
Ch...Ch...Ch...The Toothbrush Song.
Click, Clack, Front And Back.
They're Digging A Hole In The Road.
Ring, Ring.
Nursery Rhyme Medley.
Little Red Engine.
Three Jelly Fish.
You Can Stamp Your Feet. 
Shake My Sillys Out.
There's A Bear In There. 
Gallery
COMING SOON!
Community content is available under
CC-BY-SA
unless otherwise noted.