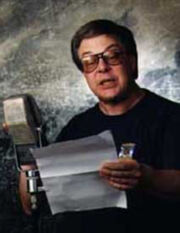 Keith Scott (born June 23rd, 1957, in Sydney, Australia) is an Australian voice actor, impressionist and animation historian. He is best known for voicing Bullwinkle from "The Adventures of Rocky and Bullwinkle" and the narrator for the "George of the Jungle" films.
He was originally hired to voice Diesel 10 in Thomas and the Magic Railroad, but US test audiences thought he made the character sound too frightening for little children so he was replaced by Neil Crone. Despite this, Keith's voice was still included in some of the trailers. He also did the voiceover for adverts for Bluebird Toys in Australia.
Other credits include "The Adventures of Blinky Bill" and "Popeye's Bilgerat Barges".
Filmography
Film

Dot and the Koala (1985)
Dot and Keeto (1986)
Dot and the Whale (1986)
Dot Goes to Hollywood (1987)
Dot and the Smugglers (1987)
Frenchman's Farm (1987)
Peter Pan (1988)
Hiawatha (1988)
Around the World in 80 Days (1988)
Alice in Wonderland (1988)
Black Tulip (1988)
The Magic Riddle (1988)
Blinky Bill: The Mischievous Koala (1988)
The Adventures of Blinky Bill (1993)
Dot in Space (1994)
George of the Jungle (1997)
Paws (1997)
Go to Hell!! (1997)
Fractured Fairy Tales: The Phox, the Box, & the Lox (1999)
The Adventures of Rocky & Bullwinkle (2000)
The Magic Pudding (2000)
George of the Jungle 2 (2003)
Day of Miracles (2004)
The Adventures of Roman Pilgrim (2005)

TV

Kum Kum (1975)
The Adventures of Candy Claus (1987)
The Adventures of Blinky Bill (1993)
Tabaluga (1994)
Blinky Bill's Extraordinary Excursion (1995)
Flipper & Lopaka (1999)
Skippy: Adventures in Bushtown (1997-1998)
Fairy Tale Police Department (2001)
Old Tom (2002)
Blinky Bill's Extraordinary Balloon Adventure (2004)
Blinky Bill's White Christmas (2005)
Staines Down Drains (2006)
Gumnutz: A Juicy Tale (2007)
Dennis & Gnasher (2009)
Sally Bollywood (2009)
Legend of Enyo (2010)
Gallery
External Link
Community content is available under
CC-BY-SA
unless otherwise noted.