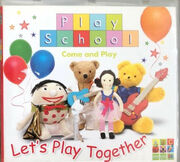 Let's Play Together is a Play School album, released in 2010 by ABC Music. It was nominated for the 2011 Aria Music Award for Best Children's Album but lost to The Wiggles' Ukulele Baby!.
Tracklist
Play School Theme
Let's Play Together
Big Adventure
Teddy Bear Twist
Let Me See You Do The Monkey
Hippopotamus Song (Mud Glorious Mud) 
Chicken Talk
Dino Stomp
My Little Puppy
Leopard Has Lots Of Spots (Spotty Song) 
Wiggerley Woo
Hey Diddle Diddle
I'm A Little Teapot
Polly Put The Kettle On
The Grand Old Duke Of York
Twinkle Twinkle Little Star
Row Row Row Your Boat
Driving In The Car
I'm A Train
Singing A Cowboy Song
Walking In The Bush
Do The Cockatoo
Would You Like To Be A Tree?
R-O-B-O-T
I'm A Pirate
Stomp Stomp
Humpty Dumpty
Hickory Dickory Dock
Baa Baa Black Sheep
Little Peter Rabbit
Incy Wincy Spider
Drip Drop
I Can Sing A Rainbow
Friends All Together
Celebrate (Hip Hip Hooray)
Gallery
Community content is available under
CC-BY-SA
unless otherwise noted.