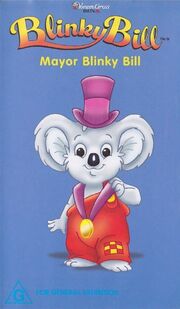 Mayor Blinky Bill a released in 2003 is the last VHS of Blinky Bill on ABC for Kids.
Description
Australia's favourite Koala, Blinky Bill is adventurous, courageous, smart, cheeky - and always mindful of his mum. Join Blinky and his friends as they embark on another exciting adventure.
Episode
Mayor Blinky Bill
Trivia
Just one episode on the video.
Gallery
AUS VHS