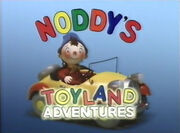 Noddy's Toyland Adventures is a British children's television program that was broadcast from September 1992 until January 1993 and December 1994, and again in 2000 on the BBC. It was produced by Cosgrove Hall Films in stop-motion animation.
The show featured the memorable voice acting talents of voice actors and television writers Susan Sheridan and Jimmy Hibbert (both of whom also worked on the version of The Little Polar Bear for Mattel the United Kingdom, as well as the later 'also Cosgrove Hall produced' television series The Animal Shelf), with every episode being written by Julia and Chris Allen respectively during its broadcast run. The composer Paul K. Joyce sings the theme song to this series.
It follows the adventures of Noddy, a little wooden doll who lives in Toyland with his red and yellow taxi, often trying to make sixpence or getting himself in trouble. His best friends Big Ears, Mr. Plod and Tessie Bear are always ready to lend a hand, especially when he gets tricked by Gobbo and Sly, the wicked Goblins. Whatever the situation the episode mostly ends with Noddy laughing and nodding his head which makes the bell on his hat ring.
Episodes of this series aired in Canada and the United States as part of a full thirty-minute program titled "Noddy" which featured the original UK animations re-dubbed with North American voices, which were shown in between all new live action segments. Paul K. Joyce's soundtrack was replaced by a new score by Stacey Hersh, who also scored the live action part of the series. Nashville-based songwriter Dennis Scott composed 99 new songs for the live action segments, including the theme song. Several of the re-dubbed Noddy animations were also released on VHS by Universal under USA Home Entertainment and PolyGram Video. These videos also featured songs written by Stacey Hersh and co-writer Ari Posner. This new series aired in the United Kingdom in 1999, under the title "Noddy in Toyland" (not to be confused with the show from 2009); the original British sound-track was used, but the live action segments were unaltered.