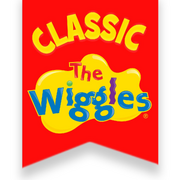 OG Wiggles (also known as Classic Wiggles) is branding that has been used by The Wiggles for content from 1991-2012 (though primarily 1991-2006 and 2012) on digital platforms. This includes videos and TV series on YouTube as well as albums on various streaming services.
History
Though a playlist containing a clip of Rock-A-Bye Your Bear existed as far back as 2016, a new "Classic Wiggles" series of videos was launched on April 6, 2018, with a new introduction by Murray. Uploads began with their 1993 debut video, Wiggle Time!, split into parts. Videos up to Space Dancing! continued to be uploaded this way through November 2020, with a few notable exceptions (the Dorothy and Captain spin-off videos and The Wiggly Big Show were skipped entirely, while Wiggly Safari was given different treatment noted below).
On December 5, 2019, ABC Music released various albums from 1996 to 2006 and 2012 to several streaming services and digital purchase platforms under the same "Classic Wiggles" branding. Most of these albums had been previously available but were removed in 2016, thus were returning from a three-year absence. Two albums made their digital debut, Go To Sleep Jeff! and Karaoke Christmas Songs, while others were available for the first time outside the United States and Canada, such as The Wiggles Movie Soundtrack[Note 1], Hoop-Dee-Doo it's a Wiggly Party and Karaoke Songs 1[Note 2], which had been available for a time in that region when Koch Records/E1 Entertainment had The Wiggles' music distribution rights there; ABC Music's pre-2016 Wiggles catalogue on digital did not include any of these five albums. Making an overall international debut on streaming are the North American versions of Wiggle Time! (a.k.a. Let's Wiggle) and Yummy Yummy, replacing their Australian counterparts.
By October 2020, a number of changes began to be made to the YouTube uploads. Wiggly Safari was the first video to be uploaded in its entirety that month, followed by the first episode of TV Series 1. In November, Wiggle Time! saw a reupload where it was presented as one video, though the original fragmented videos remained on the channel as well.
Around this time it was announced that unreleased/rare Wiggles videos from all generations would be coming to The Wiggles' YouTube Page presented by the character Sir Lesley Longley. The first of these was a concert from the Sailing Around the World Live! tour uploaded in early December. This was the first video branded as "OG Wiggles" and episodes from TV Series 1 continued to be uploaded with the "Classic Wiggles TV" name.
Throughout December 2020, song compilations included clips from the 1999 version of Wiggly, Wiggly Christmas with songs from the 2017 video of the same name. Between these uploads, a few individual "OG Wiggles" song clips were uploaded as well, starting with Jingle Bells. This continued in January 2021, when animal song compilations featured clips from Wiggly Safari, at which point Old Man Emu was uploaded on its own with this new branding. By this point, separate OG Wiggles! and Classic Wiggles TV! playlists had been created, and the original Classic Wiggles playlist was retitled "Classic Wiggles Specials!" (though the distinction was muddled by all three playlists containing TV episodes, and the "Specials" playlist contained individual song clips as well).
On January 18, 2021, to commemorate the release of the new song We're All Fruit Salad, six clips were uploaded of the original Fruit Salad from various sources, including videos featuring Sam for the first time (specifically Wiggledancing! Live In Concert and The Wiggles' Big Birthday!), as well as a Little Wiggles clip from TV Series 4.
Two days later, on January 20th, some previous "Classic Wiggles" uploads began to be re-branded as "OG Wiggles." As of this date, the albums on streaming remain known as "Classic Wiggles." The Sam videos were later re-branded as simply "The Wiggles" on the title and thumbnail, also noting "with Sam Wiggle!" in the title. The "Classic Wiggles Specials!" playlist was deleted around this time, and the regular "OG Wiggles!" playlist was cleaned up to remove TV episodes and the Sam content (the "OG Wiggles TV!" playlist remained separate; however, a new Sam playlist was not created at this time).
It is likely that videos will no longer be uploaded in parts. However, it is unknown if full videos (either ones entirely new to the channel or reuploads) will continue.
YouTube Videos
Note: Dates are supposed to be based on Australian time zones. Upload dates may appear different in other countries.
Song Clips (2016, 2020-present)
Fragmented Videos (2018-2020)
Full-Length Videos (2020)
Wiggly Safari (uploaded on October 17, 2020)
Wiggle Time! (uploaded on November 11, 2020)
OG Wiggles TV
Sir Lesley Longley Presents... (2020-present)
Sailing Around the World Tour - San Diego, CA, USA, April 28th, 2006 show (uploaded on December 4, 2020)

Racing to the Rainbow Tour

- Everett, WA, USA, March 16th, 2007 show (uploaded on January 29, 2021)

This video was later rebranded from "OG Wiggles" to "The Wiggles... with Sam Wiggle!"
Song Compilations featuring OG Wiggles (2020-present)
Jingle Bells and More!

Silent Night and More!

Hey Diddle Diddle, B-I-N-G-O + More Furry Friends

Baa Baa Black Sheep and More Amazing Animals

Mary Had a Little Lamb & More Amazing Animal Songs

Big Red Car & Wheels on the Bus

Do The Propeller, Rock-a-Bye Your Bear And More Greatest Wiggles Hits! Kids Songs

Rock-A-Bye Your Bear, Twinkle Twinkle, Little Star, 30 Years of Hits by The Wiggles

Animals Alphabet!

The Wiggles: Hot Poppin' Popcorn Playlist! Songs about Food Nursery Rhymes and Kids Songs

The Wiggles: Here Come our Wiggly Friends! Nursery Rhymes and Kids Songs

The Wiggles: Come Dancing Down to Wiggle Town - Dance Spectacular! Nursery Rhymes & Kids Songs

The Wiggles: Making Music! The Guitar Song, Songs with Piano, Play the Drums! Music Songs for Kids
Also featured in the playlists are We're All Fruit Salad and promotions for The Wiggles Reunion Show, Classic Wiggles albums on streaming and the unreleased videos.
Gallery
Streaming Albums
Hit Songs and Rarities is also available, and tracks from it are in the Classic Wiggles Spotify playlist, but it had been available in previous years and is not branded "Classic Wiggles" like the rest.
Gallery
Trivia
YouTube
Although some fans claim early videos are "remastered" or "restored in HD", they are simply digitized Betacam SP or Digital Betacam masters (standard definition, roughly DVD quality) blown up to a 1080p frame. Racing to the Rainbow onward were filmed in true HD.[Note 3]

While the presentation of standard definition videos are usually identical to the Australian DVD releases of videos, there can be noticeable differences. For example, Wiggle Bay is presented in a 14:9 aspect ratio on YouTube (the original DVD release was cropped to 4:3).

When Swim Like A Fish was used in

Mary Had a Little Lamb & More Amazing Animal Songs

, the 14:9 clip was partially cropped and stretched to fill the 16:9 frame instead, similar to how clips from Wiggle Bay were presented in The Wiggles Reunion Show.

Wake Up Jeff! is the only video to be presented from a VHS transfer, meaning the original Betacam master(s) might be lost.

Most standard-definition videos are deinterlaced in a manner that causes extremely jagged artefacts around edges. This problem was exacerbated when Space Dancing! was uploaded to YouTube. While the animated scenes are entirely in progressive scan (leaving only the live action scenes at the beginning and the end of the video interlaced), the entire video is deinterlaced, leaving the animation scenes unnecessarily jagged.
Each video ends with a card showing a promo image of The Wiggles and a message saying "SUBSCRIBE NOW! 'It's Free'". A song, most commonly Get Ready To Wiggle from the debut album, plays in the background.

Though certain videos (such as Wiggly, Wiggly Christmas) have used a promo image of The Wiggles from 2002, the majority of OG Wiggles videos use an image of The Wiggles from 1994 in the end card.

The later parts of fragmented videos begin with the video's title sequence again (sometimes shortened, such as in Hoop-Dee-Doo it's a Wiggly Party). The video then continues from where it left off in the previous part.
The end credits of videos (both full-length and fragmented) and episodes are cut out.

Although Wake Up Jeff! retains its "Goodbye Dance (Instrumental)" song, it has been cut down, leaving a portion of the song from the start that doesn't have the credits text and the ending when everybody wakes up Jeff. The live segment then follows the song.
The reprise of Nya Nya Nya from Wiggledance! has the audio fade out and video cut short before the credits would begin playing over it.

Tie Me Kangaroo Down Sport is cut from Part 2 of It's a Wiggly Wiggly World! due to controversies surrounding Rolf Harris in recent years.
The TV Series 1 uploads are identical to the DVD Box Set versions of the episodes, suggesting that the Digital Betacam masters where these edited episodes had been stored were used for YouTube.

Because the DVD Box Set edits of TV Series 1 episodes are used, all uploads have featured Kindergarten segments in place of the original Kaz the Cat segments. Additionally, certain songs are edited out of the episodes (such as Baby Baluga in Funny Greg).

So far, the previously unreleased concerts from the USA have come from The Wiggles saving what was shot and projected live on screens at either side of the stage. Because of this, the camerawork is noticeably more amateur looking than concerts that were filmed with a professional camera crew and intended for video release or to be used in TV series. The live cameras themselves (and/or the methods of saving the footage) were in lower quality and a 4:3 aspect ratio, long after The Wiggles had filmed other concerts in 16:9, and even in HD. Additionally, because the editing was done live, when the side screens switched to cartoon imagery on the screens during some songs in the

Racing to the Rainbow Tour

, that remained attached to the live footage.
Goofs
Albums
Notes
↑

Under the title "Magical Adventure"

↑

Under the title "Crunchy Munchy Music"

↑

The Wiggles Movie, which is not currently part of OG Wiggles due to rights issues, was shot on film and thus could truly be remastered/restored in HD. Film does not have a set resolution like video, and everything The Wiggles have shot on video exists at maximum resolutions of either 576i (interlaced PAL standard definition), 576p (progressive PAL SD), 1080i (interlaced high definition) or 1080p (progressive HD).