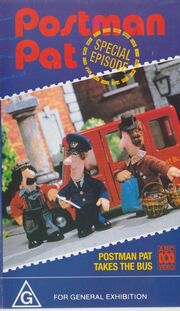 Postman Pat is a special episode of Postman Pat. The VHS release features a bonus episode from Season 1, Postman Pat and the Magpie Hen.
Plot
Pat was on his way to the Post Office to get his brand new vehicle, the Royal Mail Post Bus. He takes Granny Dryden, Miss Hubbard and Ted Glen on their way to Ingledale. They went to buy some drinks and some food from Sam Waldron, stopped by PC Selby who was putting road blocks at the unsafe bridge, so they take a shortcut on the road to Thompson Ground.
They suddenly heard the Reverend Timms cycling on his old bicycle straight into the barn, so he has to go with Pat on his Post Bus to Ingledale while Alf mended his bike. They finally arrived in Ingledale, Granny Dryden goes missing but she soon comes back and they set off home again.
But Dorothy calls Pat about Mrs Goggins who has been on the phone thinking he might have had an accident on his Post Bus so he gives her a ring while his friends have a cup of tea. Pat soon got his friends home safe and sound.
Postman Pat and the Magpie Hen
During his lunch break, Pat falls asleep on a hill above Thompson Ground, leaving his lunch box open and his keys just beside it. When he wakes up, he sees Dorothy Thompson's hens running off with his sandwiches and one with his keys. Pat follows the hen up a tree, but then the hen drops the keys and flies away. After falling out of the tree, Pat tells Mrs. Thompson about the hen and she comes to the conclusion that it must think its a magpie. Pat and Dorothy then go to get a ladder and Pat finds more than just his keys up in the tree. He also finds Mrs. Thompson's wedding ring which went missing the previous Easter and which she thought she lost down the sink. Having lost his sandwiches, Pat later has some of Mrs. Thompson's dinner. Later on when Pat carries on with the post, he tells everyone else about the magpie hen and they wonder themselves if anything they lost was taken by the bird in question. On the way home, Pat sees some real magpies and wonders if they had taught Mrs. Thompson's hens how to take shining objects like them.
Trivia
1994 Reprint
Gallery