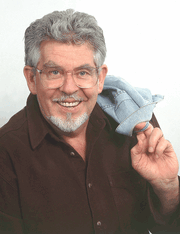 "Rolf Harris" (b. March 30, 1930) was a former popular entertainer and collaborator with The Wiggles. From the 1960s onward he became a popular television personality, presenting shows such as Rolf's Cartoon Club.
He was also a guest star on It's a Wiggly Wiggly World!, to perform his trademark song "Tie Me Kangaroo Down, Sport". In 2011, Rolf reappeared to collaborate with The Wiggles again for their Ukulele Baby! album, and performed another song called "The Good Ship Fabulous Flea".
Harris's career as an entertainer ended when he was convicted and imprisoned for sexual offences. In 2014, at the age of 84, he was jailed for 5 years and 9 months on twelve counts of indecent assault on four teenage female victims during the 1970s and 1980s. He was released from prison in 2017 after serving nearly three years. Following his conviction, he was stripped of many of the honours he had been awarded during his career. As a result of this, both of his collaborations with The Wiggles have been removed from newer versions/releases of their respective albums and videos, although they are still common to find online.
Gallery