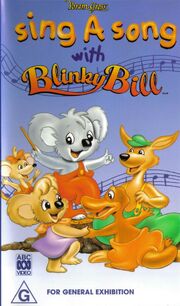 Sing a Song with Blinky Bill is a Blinky Bill video that was released in 1997.
Description
Following the coloured words and sing along with these 22 terrific animated songs featuring all your favourite characters from the movie and television series.
Song list
Hey Hey Blinky Bill
Blinky the Detective
Arithmetic Song
The Fire Brigade
Vote for Me
Ross Higgins - Gribbit (Frog Song)
If A Peli-can, A Cat Should Not
Mystery, Mayhem and Magic
Granny's Glasses
The Magic Flute
Who's on the Menu Tonight
Country Girls
I'm Old Man Wombat
The Ghost of the Cave
How I Hate Koalas
Nutsy's Ballad
Teaching Must Be Easier Than This
Snakes Are So Superior
Don't Try To Sing Underwater
Whistle Song
Robyne Dunn, Geoff Robertson & Kevin Bennett - You and Me
Jimmy Barnes - Working Class Man
Trivia
This is the only Blinky Bill video to have the ABC Video Logo on the Bottom Left Corner rather than the bottom right
You and Me is taken from the 1997 album "Between You and Me"
Working Class Man is taken from the 1985 album "For The Working Class Man"
Credits
Gallery
Community content is available under
CC-BY-SA
unless otherwise noted.