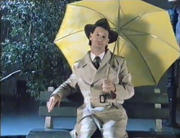 "Singin' in the Rain" is a song with lyrics by Arthur Freed and music by Nacio Herb Brown, published in 1929.
The song is a centerpiece of the musical film of the same name, Singin' in the Rain (1952). It is unclear exactly when the song was written; it has been claimed that the song was performed as early as 1927. The song was listed as No. 3 on AFI's 100 Years...100 Songs.
Glenn Butcher sings this song on ABC For Kids Video Hits.
Lyrics
I'm singing in the rain
Just singing in the rain
What a glorious feeling
I'm happy again
I'm laughin' the clouds
So dark up above
The suns in my heart
And I'm ready for love
Let the stormy clouds chase
Everyone from the place
Comon with the rain
I have a smile on my face
I walk down the lane
With a happy refraim
And I'm singing,
Just singing in the rain
I'm singing in the rain
Just singing in the rain
What a glorious feeling
I'm so happy again
I'm laughing the clouds
So dark up above
The sun's in my heart
And I'm ready for love
Let the stormy clouds chase
Everyone from the place
Comon with the rain
I have a smile on my face
I walk down the lane
With a happy refraim
And I'm singing,
Just singing in the rain
Video