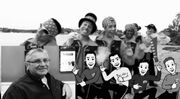 Steve started at Hanna-Barbera Australia as a layout artist. After some time and with Bill Hanna's blessing he became Creative Director of the studio and initiated and ran a "Specials" division where he produced and directed several one-hour programs for ABC and CBS earning him an Emmy Nomination.
After Hanna-Barbera Australia was sold to Disney Animation Australia Steve was hired to set up Southern Star Productions before moving on to open his pre-production studio for animation and commercials, with clients Coke, McDonald's, Foster's and Quicksilver.
In 1996 Warner Bros. Feature Animation brought Steve to Los Angeles. While at Warner Bros. Feature Animation he worked on the critically acclaimed The Iron Giant with Brad Bird. Later as layout supervisor worked on Osmosis Jones and was live action liaison working with Bobby and Peter Farrelly on location in Massachusetts. After working on several movies with Warner Bros. Feature Animation and DreamWorks Steve then joined Disney Animation initially as a consultant then as artistic supervisor for the Direct to Video division before traveling to Sydney, Australia to assist in the training and restructure of Walt Disney Animation Australia later to become DisneyToon Studios Australia. Returning to LA Steve continued working for Disney.
In 2005 Steve joined Imagi Animation Studios as head of story and cinematographer on the #1 box office Feature TMNT and then as co-director on Gatchaman. Steve has been instrumental in restructuring and training studios in Manila, Sydney and Hong Kong. More recently he did storyboard for live action thriller Dead of Night due for release 2010.