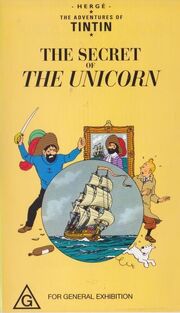 The Secret of the Unicorn is the 2nd Tintin Video to be released. It was released on July 18, 1994.
Trivia
Although the tape label says 'TINTIN THE SECRET OF THE UNICORN', the rating screen says 'TIN TIN SECRET OF THE UNICORN'
The tape label has the title in the same font as the front cover rather than the usual font used on other 1994 ABC Videos.
Gallery
AUS VHS