Jurassic World: Dominion Dominates Fandom Wikis - The Loop
Play Sound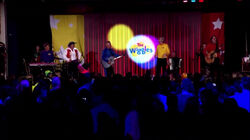 "The Four Presents" is a song from the albums Big Red Car and Here Comes The Big Red Car.
This song is also on the albums and videos for Apples & Bananas and Nursery Rhymes 2. However, on Nursery Rhymes 2 the song is called Perry Merry.
The video for the original Wiggles finally made its debut on The Original Wiggles Reunion Show For Bush Fire Relief.
Listen
Song Lyrics
I have four sisters beyond the sea
Pere Meri Dixi Dominie
And they each sent a present to me
Pere Meri Dixi Dominie

CHORUS
Petrum Patrum Paradisi Tempori
Pere Meri Dixi Dominie

The first sent a chicken without 'ere a bone
Pere Meri Dixi Dominie
The second sent a cherry without 'ere a stone
Pere Meri Dixi Dominie

CHORUS

The third sent a book which no one could read
Pere Meri Dixi Dominie
The fourth sent a blanket without 'ere a thread
Pere Meri Dixi Dominie

CHORUS

How can there be a chicken without 'ere a bone
Pere Meri Dixi Dominie
How can there be a cherry without 'ere a stone
Pere Meri Dixi Dominie

CHORUS

How can there be a book which no one could read
Pere Meri Dixi Dominie
How can there be a blanket without 'ere a thread
Pere Meri Dixi Dominie

CHORUS

When the chicken's in the eggshell, there is no bone
Pere Meri Dixi Dominie
When the cherry's in the bud, there is no stone
Pere Meri Dixi Dominie

CHORUS

When the book's in the press, no one it can read
Pere Meri Dixi Dominie
When the blanket's on the fleece, there is no thread
Pere Meri Dixi Dominie

CHORUS
Song Credits
Vocals: Greg Page
Manzillas: Gerry Brady
Guitar: Anthony Field
Bass: Murray Cook
Keyboard: Jeff Fatt
Originally engineered by Aaron Ruig. Originally recorded at Tracking Station Studios, Bellevue, Sydney. Originally mastered by William Bowden at Festival Studios.
Re-Mastered by Don Bartley

Anthony Field, Lachlan Gillespie, Simon Pryce, Emma Watkins (Wiggly Tunes Pty Ltd)
Music Produced by Anthony Field
Music Recorded at Hot Potato Studios, Sydney
Music Recorded and Mixed by Alex Keller
Mastered by Don Bartley
Vocals: Anthony Field, Lachlan Gillespie
Backing Vocals: Lachlan Gillespie, Simon Pryce Emma Watkins
Musicians: Murray Cook, Jeff Fatt, Anthony Field, Lachlan Gillespie, Alex Keller, Simon Pryce, George Tseros, Emma Watkins
Trivia
Performances/Appearances
Video Appearances

Album Appearances

Episode Appearances
Video