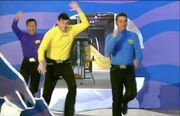 The Non-realistic Wiggles are three Wiggles who play but do not carry any instruments around unlike Murray. They are Anthony, Jeff and Greg or Sam. They have played the guitar before. They are also the same colors as The Other Wiggles (The other Wiggles of the band today that is). But since 2013, the three Wiggles are Simon, Emma, and Lachy.
Trivia
The Main Non-realistic Wiggles have all been involved in The Cockroaches. Greg was the band's roadie while Jeff and Anthony were band members.
They drove the Big Red Car in videos.
They shared playing the Blue Maton acoustic Guitar in videos, and sometimes the red one.
Extras
Gallery