Jurassic World: Dominion Dominates Fandom Wikis - The Loop
Play Sound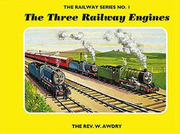 The Three Railway Engines is the first book of the Railway Series.
Foreword (1998 Edition)
Dear Friends,
When The 3 Railway Engines was first published in May 1945, a foreword to it was probably not considered. Within 6 months, however, it became clear that the book wasn't going to be the slight affair that had perhaps been expected. 25 books were to follow, all with forewords, in a sequence that became known as The Railway Series; and yet, despite numerous reprintings, the little book that started the wheels turning remained without a preface.
Now, for this new edition, more than 50 years later, a foreword is thought appropriate. I feel very privileged, not only to have been asked to write it but to have the chance to dedicate the stories to the memory of my father, their creator.
The Author's Son
Stories
The big engines are teasing Edward that he will not be allowed out because he is too weak, but when the driver sees him upset he offers to take him out. Edward goes to get some coaches and (after a few moments of panic waiting for the guard) they start off and Edward has an enjoyable day.
Gordon is bragging about pulling the express, but when Edward is shunting Gordon comes past with a long goods train. Gordon deliberately stalls at a hill and Edward comes as a "banker". At the top of the hill, Gordon races ahead and Edward gets puffed out but is pleased with the prospect of a new coat of paint.
One rainy day, Henry stops in a tunnel and refuses to move. His crew, the passengers, another engine and even the Fat Director try to get him to move, but to no avail. Eventually, they have him bricked up and they bore a new tunnel.
Gordon is pulling the Express when he bursts his safety valve outside Henry's Tunnel. Edward tries to pull the train, but cannot. The Fat Director lets Henry out of the tunnel so that he and Edward can pull the train. They later help Gordon home and Henry is rewarded with a new blue coat.