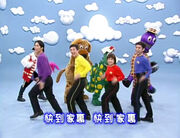 The Train Flew is a Taiwanese Wiggles song from 大家來Wiggle! where it shows how to do the actions of a train. It's one of the only songs not to be sung in English.
Lyrics
火車跑得很快,火車跑得快,
通過高山穿越河流
我不知道它的行駛里程數
幾乎是家幾乎是家幾乎是家,幾乎是家
媽媽很高興見到我
English Translation
---
The train ran very fast and the train ran fast.
Crossing the river through the mountains
I don't know how many miles it travels.
Almost home is almost home, almost home, almost home
Mom is very happy to see me.
Trivia
If you look closely, a Mickey Mouse head-shaped cloud can be seen.