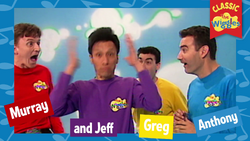 The Wiggles: Classic Wiggles available on streaming services! is The Wiggles' YouTube video uploaded on December 23rd 2019.
Transcript
Murray: Hi, I'm Murray.
Jeff: And I'm Jeff!
Murray: And you can now listen to all the Classic Wiggles songs.
Jeff: Featuring Anthony, Greg, Murray,...
Murray:...and Jeff on your favourite music streaming service.
Both: Classic Wiggles!
Gallery
Video
Community content is available under
CC-BY-SA
unless otherwise noted.