Here is the evolution of The Wiggles Logo.
Design 1 (1991-1996)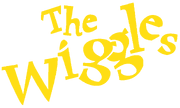 The first Wiggles logo was the band's name, typed out in the font Amigo and manipulated slightly. There was no standard colour scheme for the logo, and the logo itself was used from their first album in 1991 until Wiggly, Wiggly Christmas in late 1996.
Variants
Design 2 (1996-present)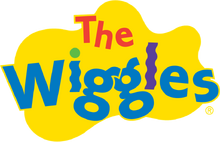 In 1996, the logo was redesigned, featuring stylised letters and specific, set colours for each letter as well as the background, which is still in use today. The font used is Cori Sans Bold. The background is yellow, the word 'The' is colored red, the dot on the 'i' is green (possibly representative of Dorothy), and the 'L' is purple, leaving the other letters blue.
Variants