Thomas And the Missing Christmas is the 52nd episode and the second series finale of Thomas and Friends. It was held back from the rest of the Series 2 to coincide with the Christmas holidays and aired on Boxing Day 1988.
Plot
It is the twenty-third of December and the final preparations are being made for a carol party to be held at Tidmouth. All the engines are working hard setting up the decorations. This year, the Fat Controller wants this carol party to be extra special.
The Fat Controller is waiting very impatiently when Thomas arrives. The Fat Controller tells Thomas that their Christmas tree has come and Thomas has to fetch it while Duck watches over Annie and Clarabel. Thomas is very excited and rushes off, collecting the tree safely, but on the way home, he gets stuck in a snowdrift. Thomas knows that he must get back in time, and whistles, but cannot get out of the heavy snow. Suddenly, an avalanche erupts and buries Thomas and the tree.
Back at the yards, the engines are waiting for Thomas. His delay begins to make them cross. The Fat Controller quiets them down to tell them that snow has knocked the telephone lines down, and they must assume that he is stranded. Everyone now feels sorry, and Donald and Douglas puff away to save him. They soon reach a snow drift much deeper than the rest. A cry for help is heard, but Douglas thinks it is the wind. Hearing the cry carefully, they realise that they are at the drift where Thomas is buried.
Time passes as the workmen dig through the snow to free him. Thomas' driver and fireman, who have taken shelter in a nearby cottage, join the rescue, and Thomas is freed from the snow. Thomas follows the twins home, and they arrive just as night falls. The Fat Controller rewards the engines by granting permission to sing carols. The engines happily chuff away to the station. Lights come on, and the Fat Controller declares three cheers for Thomas and his friends.
Harold soon joins the party bringing Father Christmas, much to everyone's joy. As the carols begin, Thomas tells Percy that it was no fun getting stuck in snow, but it was all worth it for the celebration. Thomas then wishes everyone a Happy Christmas.
Characters
Thomas
Edward
Henry
Gordon
James
Percy
Toby
Duck
Donald and Douglas
Bill and Ben
Boco
Diesel
Terence
Bertie
Trevor
Harold
The Fat Controller
Father Christmas
Gallery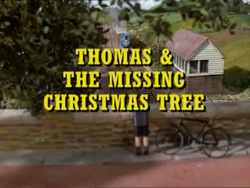 Click here to view the gallery.