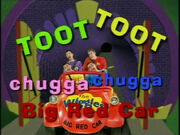 "Toot Toot, Chugga Chugga, Big Red Car" is one of The Wiggles' most popular songs, first released in 1998. It is the third song about the Big Red Car.
Listen
Lyrics
Toot Toot!
The Wiggles' Big Birthday!
The Best of The Wiggles
Song Credits
Written by: M.Cook/J.Fatt/A.Field/G.Page (Wiggly Tunes)
ReWiggled: A Tribute To The Wiggles
Nursery Rhymes
Trivia
According to the "Wiggles songs" category, this is the number one Wiggles Song on Wigglepedia along with Lights, Camera, Action, Wiggles!
In some parts of the original 1998 version, Anthony's skivvy is darker than it usually is so as to not interfere with the bluescreen process. The 1998 version also shows the Big Red Car flying at the end. This is similar to Grease, a 1978 film.
This song is sometimes confused with the song Big Red Car as they're both songs about the Big Red Car.
Despite being made during this time, The 1999 remake didn't air on television because it did not appear on any of the TV Series 2 episodes.
The Karaoke Songs 1 version shows that John Field's name was in the credits, although he didn't write it. The same thing happened on Wiggly Jukebox, but with Craig Abercrombie's name added.
An instrumental track is played over the credits of the Hot Potatoes! The Best of The Wiggles DVD.
The song is played in the games Build the Big Red Car and The Great Big Red Car Maze.
On The Wiggles' YouTube channel, the Nursery Rhymes version was uploaded on April 27th 2017, and the Wiggle Around Australia version was uploaded on November 16th 2017. Then on June 21st 2018 during the first day of summer in the Northern Hemisphere, the 2013 version was uploaded.
Anthony Field's name got removed from the Meet The Wiggles! (1999 DVD extra).
This is one of Greg Page's favorite songs.
The "Scooby Doo Wa" line comes from The Wiggles Movie version of Quack Quack.
The song is played on all of the Big Red Car Kiddie Rides.
A karaoke track can be heard in a Red Nose Day commercial from 1999.
Appearances
Video Appearances
Episode Appearances
Toot Toot, Chugga Chugga, Big Red Car
Episode 9 (Lights, Camera, Action, Wiggles!) (Paired with Wake Up Jeff!)
Episode 25 (Lights, Camera, Action, Wiggles!) (Paired with Taba Naba)
Episode 42 (Lights, Camera, Action, Wiggles!) (Paired with Taba Naba)
Making Pies (concert)
Bill the Billycart (concert)
Learn About Animals (concert)
A Wiggly Concert (concert)
Pirate Dancing (concert)
Box of Mystery (concert)
Fun at the Beach (concert)
Zamel the Camel (concert)
Planes, Trains, Boats & Wiggly Cars
Sticky Rice Cake Surprise (concert)
Album Appearances
TV Specials
Concert Appearances
Videos