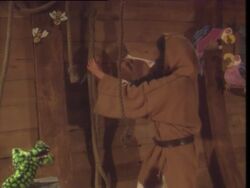 In Abrahamic religions, Uncle Noah was the tenth and last of the pre-flood Patriarchs. The story of Noah's Ark is told in the Torah in the Genesis flood narrative. The biblical account is followed by the story of the curse of Canaan. Besides the Book of Genesis, Noah is also mentioned in 1st Chronicles, Tobit, Wisdom, Sirach, Isaiah, Ezekiel, the Gospel of Matthew, the Gospel of Luke, the Epistle to the Hebrews, 1st Peter, and 2nd Peter. He was the subject of much elaboration in the literature of later Abrahamic religions, including the Quran (Sura 71).
Uncle Noah appears in the song Uncle Noah's Ark on Wiggle Time!.
Community content is available under
CC-BY-SA
unless otherwise noted.