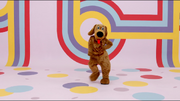 This article is about the Wiggly Mascot. For the song, see here.
Wags the Dog is a Character from the Wiggles. He's a tall, brown dog with floppy ears, a big nose and a big "W" on his chest. He is Captain Feathersword's best friend.
Trivia
Wags originally did not speak, instead communicating through barking. We're able to hear his thoughts in some episodes of TV Series 2, but Wags began speaking out loud in It's Time to Wake Up Jeff. Since then, he is sometimes portrayed as being able to speak, and other times simply barks as he originally did.
Anthony Field created him because he knew kids liked dogs.
Costume Performers
Voice Talents
Costume Models
Wags the Dog Through the Years
Gallery
See Also