"Zardo Zap" is a song about an alien of the same name.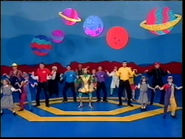 Lyrics
Well Zardo Zap was flying around
She landed her saucer here on the ground
Zardo Zap hadn't been here long
When she started singing this song

Coo coo coo coo coo coo coo coo coo coo
Coo coo coo coo coo coo coo coo coo coo
Coo coo coo coo coo coo coo coo coo coo
Coo coo coo coo coo coo coo coo

When everybody saw her on the ground
People started gathering around
Very soon her song caught on
Everyone sang along

Chorus

She thought that Earth was really hip
She was tired and hungry after making the trip
Thirty zillion clicks is a long way to come
To get some pappadums

Chorus (Repeat)
Song Credits
Trivia
The word "Coo" during the chorus is a word that The Wiggles made up whenever Zardo is singing.
Leanne Halloran who is Officer Beaples plays Zardo Zap in this song.
The instrumental version of the song is played over the credits of the 1998 version of the Toot Toot video.
Jeff Fatt is not credited for playing the keyboards.
Anthony Field is not credited for vocals in the intro.
Paul Paddick is not credited for voicing Captain Feathersword in the intro, although he is credited for the backing vocals.
The song lasts 1 minute and 38 seconds but the CD version runs 2 minutes and 40 seconds, due to a 1-minute intro.
The video version adds a swoosh sound effect at the beginning.
Appearances/Performances
Video Performances
Album Appearances
Episode Appearances
Community content is available under
CC-BY-SA
unless otherwise noted.